Opal History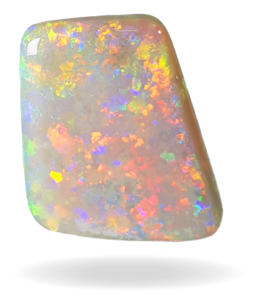 Born From Red Dust
Opals have fascinated people for centuries. As early as the first century AD, the Roman Pliny wrote of opals: "In them you shall see the living fire of ruby, the glorious purple of the amethyst, the sea-green of the emerald all glittering together in an incredible mixture of light"
In comparison to other gemstones, there are none more fascinating and sought after then the opal; born from the red dust of the Australian outback as a result of incredible fossilisation, opals currently stand as the only gemstone that allows someone to hold - both literally and figuratively - a rainbow. Watch
1ST CENTURY A.D. - Pliny The Elder
An important early description of opal is that of Caius Plinius Secundus the world's first historian, better known as Pliny the Elder, who lived in the first century A.D. Pliny wrote an extensive treatise entitled, "Natural History".
He describes opal as being inexpressibly beautiful:
"Made up of the glories of the most precious gems, to describe them is a matter of inexpressible difficulty. For there is amongst them the gentler fire of the ruby, there is the rich purple of the amethyst, there is the sea-green of the emerald, and all shining together in an indescribable union. Others, by an excessive heightening of their hues equal all the colours of the painter, others the flame of burning brimstone, or of a fire quickened by oil."
47 BC - "Lucky Gem" Talisman Senator Nonius
This historical value is reflected in the story of the Roman senator Marcus Nonius Macrinus, (the senator who inspired the "Gladiator" film with Russel Crowe). He is said to have possessed a very fine opal ('the size of a hazelnut'), about half a million dollars. The Opal was so beautiful that the Roman emperor Marc Antony demanded that Nonius "hand it over", even offering up to "half of his kingdom" (it has been suggested that Marc Antony needed to procure this Opal to win the admiration of Queen Cleopatra) Nonius himself held the Opal in such high regard that he departed from Rome with his gemstone, leaving behind his wife, his family and his property in order to keep his Opal!
1800'S - Opal Is The Engagement Ring Choice
Historically the Opal has been the engagement ring gemstone of choice, due to its exceptional rarity and stunning beauty. It was thought to protect a soldier in battle making them invisible to their enemies, curing illnesses with the shifting colours and has even been recorded in the Bible as the gemstone from which God's very throne has been made! For centuries Opals have been mined in Europe.
The Hungarian miners from the Carpathian Mountains were very careful to hide their Opal mines from the Romans and took a long, detoured route through the silk road before presenting their Opals to the Romans. There was a genuine fear that if the Romans discovered that their Opal mines were "local" they would have most certainly invaded them to plunder their treasures.
1829 - Debeers Commission Anne Of Gierstein
Harry Oppenheimer's Diamond Cartel - De Beers discovered the Orange River Diamond pipes in the mid 1800's. The find was so great that the value of Diamond was threatened with collapse, as there would simply be too many diamonds released onto the market! A new market had to be quickly secured so the De Beers consortium targeted the engagement ring market. In the 1800's Opal was the engagement ring gemstone of choice with Opals mined and cut in ldar-Oberstein.
It is alleged that De Beers set out to take over the engagement ring market. In a deliberate plan to discredit Opal De Beers allegedly hired a novelist named Sir Walter Scott to write a novel about the Queen of Spain who, "had a run of bad luck after being given an Opal!" The fictional story turned out to be a bestseller! This was the equivalent of a global marketing campaign in the late 1800's and began the "bad luck" myth.
Next De Beers purchased highly productive Opal mines in Hungary and shut them down claiming that "the Opal had run out". This was a carefully planned marketing strategy that firmly placed diamond on the engagement ring finger of every young woman.
1870 - Queen Victoria Champions Opal
The 1870's was the time that Wally Tullestone discovered the most valuable of any form of Opal found worldwide, the incredibly rare and beautiful Australian Black Opal. This gem was so captivating that De Beers reacted quickly, it is alleged that they claimed that this Opal had to be fake or treated because it was impossible for any gem to have so much colour. Fortunately, in the 1860's Queen Victoria however did a lot to reverse these false statements. She became a lover of Opals and wore them throughout her reign. Her friends and her five daughters were presented with Opals and because the royals were regarded as the model for fashion the Opals once again became highly sought after.
Her royal highness helped popularise Opal around the turn of the century, it was no coincidence that Opals were the quintessential gemstone of the Art Nouveau period. Victoria was enamoured of jewelry and regularly adorned herself with Opals which Prince Albert gave her.
In 1863 Her Majesty in the name of HRH the Prince Consort and the Queen gave Princess Alexandra of Denmark a suite of Opal jewelry as a wedding gift. It consisted of a cross, a bracelet, a pendant, a pair of earrings and three brooches.
Prince Albert drew the designs for the jewels which were executed by Garrard and Co. Princess Alexandra wore the opal and diamond bracelet from this parure on her wedding day. The Oriental Circlet tiara was also designed by him and set with Opal which was Prince Albert's favourite stone. The Prince of Wales presented an exceptional Opal parure to his eldest sister, Victoria, when she married the Crown Prince of Prussia in 1858. Upon her marriage in 1862, Princess Alice received an Opal and diamond suite from her late father consisting of a cross, two brooches and a pair of earrings which were made by Garrard and Co.
1800's - Opal Becomes The Engagement Ring Of Choice
In the late 18th and early 19th centuries the opal was the engagement ring gemstone of choice, as it was exceptionally rare and stunningly beautiful. It is alleged that the Diamond cartel De Beers, attempted to discredit opal by commissioning a novelist named Sir Walter Scott to write a novel about the Queen of Spain who, had a run of bad luck after being given an Opal! The story turned out to be a best seller. De Beers then purchased highly productive Opal mines in Hungary and shut them down claiming that the Opal "had run out".
Queen Victoria however did a lot to reverse these false statements. She became a lover of Opals and wore them throughout her reign. Her friends and her five daughters were presented with Opals and because the royals were regarded as the model for fashion the Opals once again became highly sought after. Unfortunately, the engagement ring market (from this time forward) belonged to De Beers who, since these early days have spent 'billions' promoting Diamond over Opal (or any other gem).
1873 - Australian Opal Is Discovered
In the latter years of Queen Victoria's reign, Australian Opal fields were discovered. By the 1890's Australian Opal appeared in England. The old Hungarian mine owners (De Beers) spread the idea that the Opal wasn't genuine "because it was impossible for a gem to have such fire".
The first discovery of Australian common opals was made near Angaston – South Australia – by the German geologist Johannes Menge in 1849. Then in 1890 the production of precious opals began at White Cliffs, NSW.
In 1877 - Mining for precious opal from igneous rocks, first began at Rocky Bridge Creek, a branch of the Abercrombie River, in the Central West. In 1881 Opal was discovered at Milparinka, near Tibooburra in the Far West. Then in 1884 Opal was discovered in sedimentary rock at White Cliffs in the Far West and in 1889 precious opal was discovered at White Cliffs.
In around 1891 Opal was discovered in sedimentary rock at Lightning Ridge (Wallangulla) and other localities in the area, but its commercial value was not recognised at the time.
By 1890 precious opal mining had started at White Cliffs (continuing to 1915 then going into decline). In 1896 Opal was discovered at Purnanga and Grenville-Bunker Field. Mines that are near White Cliffs. 1897 saw Opals discovered in igneous rock at Tooraweenah, near Coonabarabran and in 1901 at Tintenbar, on the Far North Coast.
Opal mining began in Lightning Ridge in 1901. The first shaft was put down by Jack Murray, a boundary rider who lived on a property nearby. Sometime later, a miner from Bathurst named Charlie Nettleton arrived and commenced shaft sinking. In 1903 he sold the first parcel of gems from the field for $30, 1/50th of the price that could have been obtained five years later.
In 1907 at Old Town, on the Wallangulla Opal Fields (later known as the Lightning Ridge Opal Fields) the first ever recorded "Opal cutter" was a Mr Charles Deane. When the 3-Mile mine was discovered in 1908, Opal cutters worked at Nettleton. Another early Opal Cutter was Mr Lorenz who had learned to cut in Idar-Oberstein in Germany. He used horizontal wheels with a hand crank and was an expert. He made doublets, jewelry, and was one of the first to buy OpaI by the carat.
In 1908 Opal mining began at the Grawin-Sheepyard Field in the Lightning Ridge area, increasing the importance of the opal fields in the district. In 1919 - Opal mining began at Tintenbar, continuing to 1922. By 1920 The Newfield opal area had been discovered and in 1989 The famous "Coocoran" discovered in the Lightning Ridge.
Before 1900, rough opal was sent from White Cliffs, the premier NSW opal field, to Germany to be cut and polished.
1938 - Louis Leakey Discovers Opal Artifacts
The earliest known Opal artifacts were discovered in 1938 when Louis Leakey excavated the Njoro River Cave site where they discovered 70 cremated burials. Hundreds of stone beads and pendants were found over half of which were Opals that are thought to have been acquired through trade.
1967 - Graeme Blaiklock Starts Wholesaling Jewelry
By 1932 Australia to assume the title of "World's Premier Opal producer" producing 97% of the world's overall Opal supply, and 100% of the beautiful Black Opal with patterns unlike those found in any other gem, and (of course) the Boulder Opal, and fiery white opals from Coober Pedy.
In 1967 Jack Musgrave Blaiklock arrived from New Zealand. At the time, his son Graeme was looking for something to do and when Jack asked him to team up and go "on the road" selling jewelry, Graeme said yes.
In the 1970's Graeme 'cut his teeth' as a highly successful wholesale sales representative. Many of the principles and strategies employed by Australian Pearl Divers began there. Australian Opal Cutters prides itself on being the very first Vertically Integrated Marketers of Australian Opal in other words the first to bring opals directly from the opal mine to you, and opal jewelry directly from the workshop to you bypassing all of the middlemen.
1982 - Graeme Registeres Australian Opal Cutters Pty Ltd
In the early 1970's Graeme had a thriving Opal wholesaling company and for many years has traded very successfully supplying retail jewelry stores. His sons at the tender ages of 10 and 9 were often employed weekends at the generous rate of $10 an hour to untangle chains! For over 40 years Graeme has been thoroughly involved in all areas of the gem and jewelry trades for years, manufacturing, retailing, trade shows, wholesaling, and is now teaching his grandchildren (the 4th generation) the "tools of the trade"!
Today, with the internet everyone knows how to buy something 'wholesale' however back in the 1960's and 1970's there were very "clear" lines of delineation that meant you were either one or another. You either set up shop and presented goods to the public, or, you had a warehouse or factory or office and supplied the stores.
By 1982 Australian Opal Cutters Pty Ltd was officially registered and a limousine driver approached Graeme and said "would you mind if I sent my guests up to see you? They are complaining that they can get better prices back in the United States". From that simple introduction a word-of-mouth phenomenon was born.
Since those early days Australian Opal Cutters has sourced Opals "directly from mine" and then cut and set opals in contemporary jewelry designs in our genuine local factory workshop. Australian Opal Cutters manufacture jewelry. We cut out the middleman, cut and set Opals ourselves, create our own designs and unique bespoke commissions.
This transition from wholesaler to retail-direct ruffled a lot of feathers in the late 1980's and early 1990's but created many happy customers! Today Australian Opal Cutters has had over 1 million customers from 32 Nations.
1993 - Autralia's National Gemstone
In 1993 Opal was declared the national gemstone of Australia, the state emblem of N.S.W. and is now known as… "the lucky gem from the lucky country".
AUSTRALIAN OPAL CUTTERS ACHIEVES #1 RANKING ON TRIP ADVISOR!
Today Australian Opal Cutters is internationally recognised brand with customers from almost every Nation on earth! Ranked as the "Trip Advisor" #1 place to shop in Sydney Australian Opal Cutters is now sharing their genuine love and appreciation for this incredible gemstone with you!
2020 - Opal Rush
Right now (and predicted for the coming decade) there is an opal rush going on! International interest in the authenticity, rarity and natural state of Opal (as well as the romantic stories and adventures associated with this gem) have led to a genuine "Opal rush".
Shows like "Gem Hunters" and international fashion houses such as Tiffany and Chanel, Cartier and Louis Vuitton Moet Hennessy starting to display Opal have caught the attention of the international press. Jewellers from New York to Paris have started to promote this enigmatic gemstone and industry leaders such as Vogue have announced that this is the time to recognise and appreciate Australia's National gemstone.
It is also the time to buy opal as only when it's being found does the price go up because jewellers wanting to take advantage of the rare chance of a reliable supply start adding opal to their ranges and competing for the rare gemstone. Have you ever noticed how little opal there is in the regular jeweller's shop? That's because they simply can't get hold of it. It's TOO RARE!!! So jewelry lovers all over the world are 're-discovering' this incredible gem.
Science
The miraculous process that causes Opal molecules to align so perfectly is still a scientific mystery. The nature of Opal formation has attracted many wonderful theories, everything from lightning strikes causing the colour formation to tiny microbes that form an underground gel where the molecules align causing the incredible manifestation of colour.
Opals have been known to form rapidly. In outback Australia an Opalised fencepost has even been discovered (less than 100 years to form). As surprising as it may seem, the ingredients that make up Opals are commonplace. Water in the ground carrying dissolved silica – which is similar to the glass in windows – seeps through beds of sand and grit, which is then deposited in between cracks. As the water eventually evaporates, the silica particles become a gel that eventually hardens as the cells become 'cemented' together (Opal).
Opal, scientifically speaking, is a hydrated amorphous form of silica, however the gem is classed as a mineraloid, unlike crystalline forms of silica, which are classed as minerals. Although there is no solid scientific explanation as to how hydrated silica forms in the ground, there is a general consensus as to how the actual gemstone is created. As it is permeating into these cracks and crevices, there is occasionally a hole that is formed by a foreign element (such as squid bone, small pieces of wood, or a shell). Although carbonated materials usually fill these holes, occasionally hydrated silica of the Opal has filled the hole and solidified. This process is a rare occurrence, and as a result, there is limited potential for a miner to find Opalised fossils or Belemnite (the hard part of the squid bone that has been replaced, not by calcium carbonate, but by Opal).
Fossilised Opal shells are rarely seen by any living human beings, having occurred when in the Great Artesian Basin the inland seas began to recede. Occasionally, Opal would begin to percolate down into gaps created by mussels and shellfish that were left buried under the sand when they die. The hydrated silica, common Opal known as Potch, would fill these gaps in the solidified mud of the sediment. The calcite would disintegrate and occasionally be replaced by common Opal of white, grey, brown, transparent crystal, and very rarely black Opal. In very rare occurrences, the hydrated silica would form a diffraction grating, and when brought to the light would show red, orange, yellow, green, blue, indigo or violet, or combinations of those colours depending on the formation of the diffraction grating at the molecular level. In this instance, one of the rarest fossils on earth would produce a colourful crystal Opal or, even more rarely, a black Opal with colour. The Opal itself would have variable optical density. If the colour, the diffraction grating producing the colour, was right throughout the fossil, skin to skin colour would appear.
This would produce a shell that had colour all the way through on both sides. When these "skin- to-skin" coloured Opals are found, they are extremely valuable and make exceptional pieces of jewelry for collectors of rare and exciting pieces of Opal. These pieces are right up there in rarity and desirability with the rarest black and boulder Opal.
Today we can admire and enjoy the beauty and fire of these dazzling precious Opals and Opalized bones.