Opal Earrings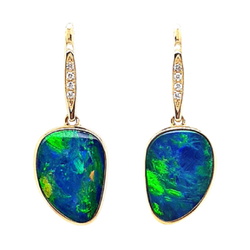 Australian Opal Cutters has an impressive selection of 100% Genuine Australian Opal Earrings to suit anyone, truly stunning in colour and vibrancy.
Australian Opal Cutters cut and set Australian Opals as matching earring "pairs" – which is extremely difficult – and with the most extensive range of Opals in Australia. So we can find a matching pair of earrings to suit you and your budget, from Opal Stud Earrings, Opal Drop Earrings, Opal Hoops Earrings and more. Shop our stunning collection of Opal Earrings featuring some of the most unique opals in the world, including Black Opal Earrings, Crystal Opal Earrings, White Opal Earrings, Boulder Opal Earrings and many more unique Opal Earrings, all displaying a spectrum of stunning rainbow and spectral colours.b
Australian Opal Cutters has over 60 years of specialisation in the opal business, thousands of happy customers worldwide, international lifetime guarantees and free shipping! 
Frequently Asked Questions
How Much is an Opal Earring Worth?
The value of Opal Earrings is difficult to assess, as each characteristic of an opal plays a role in determining its worth. According to the opal's gemstone type, body tone, clarity, pattern, colour bar thickness, colour play, and flaws all play a role in determining its worth. In addition, the quality of the cut, polish, and gemstone size are all crucial factors to consider.

Opal Earrings are meticulously examined and assigned a price per carat when it is evaluated. The opal's price is determined by the total carat size of the stone.

Generally, opal gemstones with a black or dark body tone showcase a more vibrant play-of-colour, which is considered more valuable than opals with a white, light, or crystal body tone. As the most valuable form of opal, Black Opal Earrings may cost over $10,000 AUD per carat.

The clarity of an opal's colour is critical when assessing the value of Opal Earrings. Red fire is the rarest colour, followed by green/orange, green/blue and blue. Therefore, a Red Fire Opal is generally more valuable than a predominantly green opal, which is more valuable than a stone showing only blue colour.

However, the brilliance and clarity of an opal's proportioned pattern is the main decision-maker. A brilliant blue/green can be more valuable than a dull red; bright twinkling stars of a 'pin fire' pattern can be more valuable than a cloudy 'open' or 'mixed' pattern of similar colouration; or a brilliant, lustrous light opal can sell more than a lack-lustre Black Opal.
What is the Best Gemstone for Opal Earrings?
Crystal Opals from Coober Pedy or Andamooka are the most common types of gemstones used for Opal Earring designs, as they are easily cut into matching pairs. In very rare cases, Boulder Opals can split along the seam allowing a matching Opal Earring pair; however, these are very rare and difficult to find.

As all opals are different – no two are alike – it is difficult to find perfectly matching earrings. Solid White and Crystal Triplet Opals, however, can be sliced into fine layers, which can then be carefully placed on a layer of natural Australian Black Opal "potch" (opal without colour).

At Australian Opal Cutters, Opal Triplets are often made into matching Opal Earrings with 100% natural materials, containing no dyes, treatments or plastics.

Black Opal Earrings
Australian Black Opal Earrings are gorgeous and are the most precious opal variation on the market. Unfortunately, this variety of opal is so rare because Black Opals can only be found in one place on earth, a small 30km square field in North-western NSW called "Lightning Ridge".

Black Opals appear black but are really not black. They have a natural backing called "potch," which gives them a dark hue. Against this backdrop, the classic rainbow hues of an opal blossom in fire-like patterns, from oranges, greens, blues and flashes of red, pink and indigo

It is very hard to describe just how rare a pair of matched Black Opal Earrings are!

The fact is that every opal is like a person, completely individual. So, while there are similarities, no two are alike! This is especially true with Black Opals, whose uniqueness is magnified when you consider that there are 13 characteristics used to value an opal, as opposed to the 4 "Cs" in diamond or the five virtues of pearl. So, if you are fortunate enough to find a pair of Black Opal Earrings, you will be wearing something that is absolutely unique!

Customers should also keep in mind that many online stores stock a form of fake Black Opal Earrings, which are dyed and treated Ethiopian Opal. Whilst still being an authentic type of opal, they are visibly unrecognisable from a Black Opal, but structurally they are extremely prone to cracking and losing colour because the dying treatment can be affected or reversed by household chemicals.

Opal Stud Earrings
With high-grade precious opals from a reputable source, Opal Stud Earrings perfectly displays the colour play of the opals.

Quality Opal Stud Earrings are not only more beautiful, but they are also more durable. Cheap, low-quality opals are readily destroyed over time, but genuine, high-quality opals may last a lifetime if cared for properly.

When you buy Opal Jewelry from Australian Opal Cutters, you can be confident that the opal is of the highest quality. All of the opals used in our Australian Opal Stud Earrings were obtained ethically and carefully picked for their exceptional quality.

What are the different types of Gold?