Opal Rings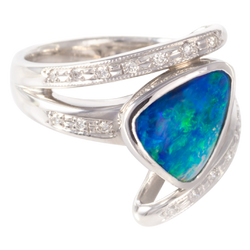 Opal Rings perfectly show off an opal's play-of-colour as the gems constantly move and turn to catch the light. The rainbow colours will literally leap off your hand!
At Australian Opal Cutters, we have a spectacular selection of 100% Genuine Australian Opal Rings from Silver Opal Rings, Gold Opal Rings, Men's Opal Rings, and Black Opal Rings with pieces to suit everyone. Our Australian Opal Rings are usually cut into oval shapes – however, this can vary depending on the stone's inherent form and the clients' requests. In addition, some opals are cut into freeform or teardrop shapes to maximise the size and carat weight of the gemstone. We carry some of the world's most precious opals, from the well-known Australian Black Opals, Boulder Opals, Fire Opals, Crystal Opals, White Opals and many more unique Opal Ring selections to suit anyone, all displaying a spectrum of stunning rainbow and spectral colours.
We have 60 years of specialisation in the Australian Opal Ring business, thousands of happy customers worldwide, an international lifetime guarantee and free shipping!

Frequently Asked Questions
How Much is an Opal Ring Worth?
The value of Australian Opal Rings is difficult to assess, as each characteristic of an opal plays a role in determining its worth, including the opal's gemstone type, body tone, clarity, pattern, colour bar thickness, colour play, and flaws.

An Opal Ring is meticulously examined and assigned a price per carat when evaluated; this total carat size determines the opal's price. It is also crucial to consider the quality of the cut and polish and the gemstone's size.

Generally, opal gemstones with a black or dark body tone showcase a more vibrant play-of-colour, which is considered more valuable than opals with a white, light, or crystal body tone. As the most valuable form of opal, Black Opal may cost over $10,000 AUD per carat.

The clarity of opal's colour is critical when assessing the value of an Opal Ring. Red fire is the rarest colour, followed by green/orange, green/blue and blue. Therefore, Red Fire Opal is generally more valuable than a predominantly Green Opal, which is more valuable than a stone showing only blue colour.

However, the brilliance and clarity of an opal's proportioned pattern is the main decision-maker. A brilliant blue/green can be more valuable than a dull red; bright twinkling stars of a 'pin fire' pattern can be more valuable than a cloudy 'open' or 'mixed' pattern of similar colouration; or a brilliant, lustrous light Opal can sell more than a lack-lustre Black Opal.
What is the Best Opal Ring?
Australian Black Opal Engagement Rings are gorgeous and are the most precious opal variation on the market. Unfortunately, this variety of opal is so rare because Black Opals can only be found in one place on earth, a small 30km square field in North-western NSW called "Lightning Ridge".

Black Opals appear black but are really not black. Instead, they have a natural backing called "potch," which gives them a dark hue. Against this backdrop, the classic rainbow hues of an opal dance in beautiful patterns on top.

An intense Black Opal Engagement Ring that really mesmerises can be worth many tens of thousands. Black Opal Engagement Rings are in a class of their own for beauty, with their rainbow variety of hues blossoming in fire-like patterns, from oranges, greens, blues and flashes of red, pink and indigo.

However, many online stores stock a form of fake Black Opal Engagement Rings, which are dyed and treated Ethiopian Opal. Whilst still being an authentic type of Opal, they are visibly unrecognisable from a Black Opal, but structurally they are extremely prone to cracking and losing colour because the dying treatment can be affected or reversed by household chemicals.
Can you Custom Fit Opal Rings?
At Australian Opal Cutters, we can custom fit your Opal Ring to suit you perfectly. In addition, we also cater to any needs and wants of a client to custom make rings and other opal jewelry pieces. If you are looking for a special custom-designed Opal Ring, here are some of the settings to consider in crafting your idea.

Claw Setting – is the most common form of an Opal Ring setting, and typically four claws are the 'standard'; however, six or eight claw settings are also popular.

Bezel Setting – where an opal is surrounded or framed with the alloy. This is a very secure setting with a gem unlikely to ever fall out of a bezel setting on an Opal Ring.

Shoulder – the upper sides of the Opal Ring and where most variations in design occur.

Claw Setting or Common Prong – setting keeps the opal visible from all sides on the Opal Ring, allowing viewers to appreciate it from every perspective. Four prongs are required for oval forms, whereas three prongs are needed for the teardrop and triangular designs, with at least one V-shaped prong to protect tips from chipping.

Bezel Setting – is perhaps the most secure form of Opal Ring setting. A metal rim gently secures a gemstone in place by the girdle, guarding the Gem against damage. A light hole at the base allows brilliance to scintillate within the Gem.

Open-Back Settings – have some advantages. For a precious opal, buyers will often want an open back to demonstrate that the opal is indeed solid, not a doublet or triplet. A tradition for as long as opals have been cut is to leave the back of an opal exposed with a hint of the original sand or potch visible. This is your guarantee of authenticity that this is a natural opal, not a synthetic on your Opal Ring.

Closed-Back Settings – will often enhance the colour of the Opal Ring, diamond or gemstone depending on the colour of the backing. On the one hand, opals set in closed silver or white gold settings may look clearer or lighter and have a somewhat cooler tone. On the other hand, opals set in closed rose or yellow gold settings may appear warmer in tone, giving already warm-coloured opals an even stronger yellow saturation.

Channel Setting – is a series of diamonds mounted in a groove carved out in precious metal. A hole positioned below the Gem is left open in the channel to allow light in. This is an exquisite method of displaying matching accent gemstones on your Opal Ring.

Bar Channel Setting – where individual precious metal bars run perpendicular along the Opal Ring. The bars are moulded around a gem to lock it in place.

Brilliant Surface – has multiple gemstones positioned next to one another on the Opal Ring. Gems are set with small beads, and narrow strips of metal lift the Gem up, maximising light to the Gem.

Pave Setting – has gemstones accented by the alloy points and add to the overall effect, with the points becoming extensions of the gemstones on the Opal Ring.
Gold Opal Rings
Australian Opal Cutters' Gold Opal Rings are made with 100% Australian gold and genuine Australian Opals. Gold Opal Rings can be crafted with any choice of Australian Opal a customer likes – from Australian Black Opals, Boulder Opals, Fire Opals, Crystal Opals, White Opals and more!

Gold jewelry is usually always blended (alloyed) with other metals because pure gold is too soft to utilise, so the additional metals add better durability and strength. Our 18 carat Gold Opal Rings are 75% genuine gold! https://vimeo.com/270795844.

Australian Opal Cutters only uses Australian gold because we are one of the world's leading gold producers for premium gold jewelry. Western Australia, in particular, holds around 60% of Australia's gold reserves, with the rest spread over the rest of the country and the Northern Territory.

Australian Opal Cutters also provides White Gold Opal Rings and rhodium plating service at No Charge! White Gold was created to mimic Platinum, at first a naturally white metal.

White gold is often 75% gold alloy with 25% nickel and zinc content.  An 18 karat would be 75% pure gold. Often a 'white gold' effect is obtained by coating yellow gold with rhodium plating to make it white.

Rhodium is a more expensive metal than Palladium. However, less Rhodium is needed in Rhodium Plating than Palladium is needed in white gold.

We can ensure a lifetime of white brilliance through free rhodium plating and our lifetime service guarantee of at-cost servicing. So you can send the item to us, and we will return it looking spectacular. However, Platinum is more expensive than white gold, and white gold will still require rhodium plating to really look "white".

Silver Opal Rings
Australian Opal Cutters' Silver Opal Rings are made with 100% sterling silver and genuine Australian Opals. Reputable jewellers will improve a hallmark of 925 on the piece of jewelry which ensures the piece contains 92.5% pure silver with the remaining 7.5% typically copper used to ensure the durability and strength of the jewelry piece.

Our Silver Opal Rings can be crafted with any choice of Australian Opal a customer likes – from Australian Black Opals, Boulder opals, Fire Opals, Crystal Opals, White Opals and more!

In addition, we further enhance the value, durability and luxury of our silver jewelry by adding a brilliant finish to your piece with rhodium plating, which is very durable but is incredibly expensive and beautiful. https://vimeo.com/270624578. 
Men's Opal Rings
Australian Opal is popular across the gender divide, as each opal is individual and unique – unlike diamonds, emeralds or rubies – they have not developed "gendered stereotypes". Australian Opal gemstones can be fashioned as masculine, feminine, modern or classic designed jewelry pieces with equal ease and adaptability.

Boulder Opals, in particular, looks fantastic on men when designed in a silver or leather bracelet or a beautiful Black Opal "boss ring" that will blow away anyone who looks at it. In addition, Opal is conducive to a multitude of styles and tastes from Victorian to art deco or a modern/contemporary design for women's designs.

Since we handcraft and design most of our Opal Jewelry in-house at Australian Opal cutters, we are entirely flexible for catering to any preferences. Particularly if you come into our Sydney CBD storefront, you can watch our master jewellers create your custom piece right in front of you.
What are the different types of Gold?